Lake Erie Crankbait Savvy
Here's the scoop on how and when to use crankbaits on Erie's walleyes.
By Michael Veine
Among avid, Lake Erie, walleye trollers, crankbaits are certainly a primary staple.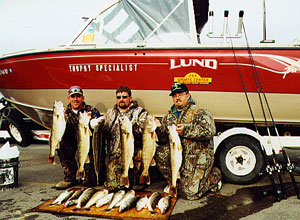 In fact, crankbaits account for the lion's share of trophy walleyes every year. That's especially true during the spring when adult walleyes stack up in the Western Basin. Crankbaits come in all shapes; sizes and color schemas to suit just about every fishing condition anglers are likely to encounter. Over the past 15 years, I've chased walleyes in the Western Basin on just about every fishable spring day. Those thousands of hours of experience have taught me some important lessons about crankbait fishing strategies.
The spring of 2003 served up the worst walleye fishing weather and water conditions that I have ever seen on Lake Erie. With ice persisting into early April followed by a constant bombardment of strong easterly winds, the lake looked like a sea of mud for most of the spring. There were only a few narrow windows of walleye fishing opportunity: The last week of April was good and so were a handful of days during the last two weeks of May. Other than that, it was a bust. In total, I lost 36 spring charters to the weather. In retrospect, 2002 was my best year ever when we landed 145 walleyes that weighed 10-pounds or more. With a low exploitation rate last year and seven strong year classes to draw from, Lake Erie's trophy walleye fishery may be at a modern-time high. The bumper crop of eater sized walleyes from the 1999 and 2001 year classes should make for an awesome year indeed and crankbaits will inevitably account for much of that success.
Last year, during late April, the muddy water finally gave way and the walleye fishing broke loose from Mother Nature's stranglehold. I had nailed down a square mile of active walleyes in about 20'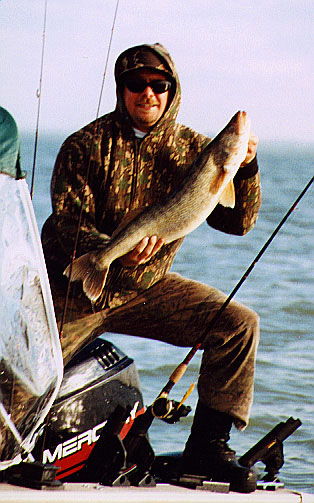 of water along the Michigan/Ohio boarder straight out from Monroe. I was running a mixed spread of crank baits and it didn't take long for the walleyes' preference that day to become apparent. They wanted Storm Hot N' Tots (old style) in Hot Fire Perch pattern. We ran the 1/4-ounce baits 60' behind the Mr. Walleye boards with a one-ounce rubber core sinker helping to take the baits down near the bottom. When I ran a full complement of that offering, we typically had two and three fish on at a time. My clients took several 10-pound walleyes that day and even caught a 48" musky as a bonus, which is quite an accomplishment on 10 lb. test line.
Early Spring
My crankbait selection methodology is based on two factors: The water clarity and the water temperature are both critical elements. During the early spring period, when the surface temperature is below 47-degrees, subtle action crankbaits are a top choice. These baits are known as stick-baits, jerk baits or minnow imitating body baits. My early spring favorites are, Storms Jr. Thunderstick (old style), Reef Runner Lil' Rippers, Normark's #9 Original Floating Rapala, Normark's HJ10 Husky Jerk and the Mr. Walleye Rattlin' Rogue. These baits are about 3-1/2" and feature a slow rolling, side to side action that works wonders at the slow trolling speeds that cold water temps dictate. My favorite color patterns for early season stickbaits are variations of black/gold and black/silver. I've also had good luck, from time to time, using chartreuse/silver and fire-tiger patterns, especially when fishing in clear water on sunny days.
During March, when the water temperature hovers near freezing, an extremely slow trolling speed is the key to success. The fish are rather lethargic, so slowly pulling a stickbait is often deadly. I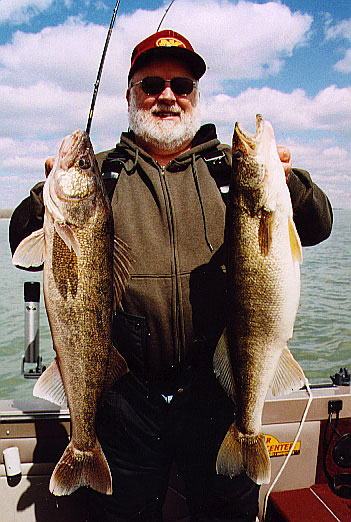 typically troll at around .5 mph. My 9.9 hp, Mercury 4-stroke kicker motor will idle down to that speed rather nicely. Trolling at slow speeds requires a down-wind trolling attack for best boat control. When the wind blows too fast, I often take the motor out of gear and just drift/troll. If the wind still pushes me along faster than .5, then I deploy drift socks. I use one on each side of the boat anchored from cleats I installed amidship with the bags dragging along the port and starboard gunnels.
During the first week of April the water temperatures along the near shore waters of Erie typically warm up into the low 40s. During this period I still run stickbaits, but I increase my trolling speed to .75 to 1.0 mph. If the water is muddy though, I slow my speed down to a crawl again.
Mid-Spring Madness
As soon as the surface temperature gauge on my Lawrance X97 reads 47-degrees, I change my offerings to faster action crankbaits. The #7 Rapala Shadrap is my number one bait at that time. Patterns like shad, black/silver, silver-shad, crawdad and silver/chartreuse are my go-to producers.
My trolling speed, when water temps are in the 47 to 50-degree range, is typically around 1.0 mph. As the water temperature rises into the low 50s, my speed is increased to perhaps 1.5 mph. If the water is dirty then I keep it slower, while conversely speeding up a bit in clear water conditions.
As the water temperature heats to the mid-50s, fast action crankbaits with rattles seem to get more attention from the walleyes. At that time, lures like Reef Runner Deep Lil' Rippers and RipShads, Rapala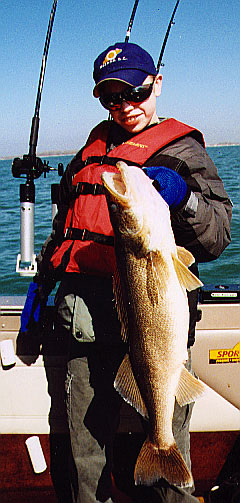 Ratting Shad Raps, Cotton Cordell CC Shads and Grappler Shads, Rapala Deep Husky Jerks (DHJ7) and old style Storm Deep Jr. Thundersticks are all good producers.
Trolling speeds in the 1.5 to 2.0 mph range seem to produce the best with these flashy, noisy attracter lures. Colors run the gambit with bright colored baits working best in clear water conditions and darker colors turning the walleyes on in low viability conditions. It typically pays to experiment with colors on any given day though.
Late Spring
As April gives way to May, the water temps typically blow past the 60-degree mark. This is when the mighty Hot N' Tot rules on the Western Basin. I run 1/4 oz. Tots almost exclusively at that time with Crawdad, Perch, Red-Hot-Perch, Black/Gold, Rainbow, Black/Chrome and Captains Choice being my favorites. I still favor the old style, Storm Hot N' Tots and probably have a lifetime supply of them in my tackles boxes. I've also tried the Dave's Kaboom Winning Streak and found it to work very well in similar patterns as my old Hot N' Tot favorites. With Hot N' Tots, I prefer a trolling speed of 1.8 to 2.2 mph.
Crankbaiting Tricks to Success
With any trolled crankbait, I make a couple simple modifications to spruce them up a bit. I bend the hooks outward slightly to increase my hookup rate on light biters. I also keep those hooks sticky sharp and replace the hooks often when they show damage beyond acceptance. I use a honing stone to sharpen hooks and before every outing you'll always see me in the back of my boat sharpening hooks, it's that important
I won't run less than a #6 treble hook on any crankbait. If they come with smaller hooks from the factory, I replace them with my favorite Eagle Claws. I also favor chrome colored hooks on my crankbaits to add more flash.
Anytime I troll with crankbaits, regardless of the type; I always attach a rubber core sinker one rod-length ahead of the lure. This accomplishes several things: First it stops lure fowling debris from sliding down the line to the bait. Second, it allows baits to achieve greater depths with less line out, which increases hooking power due to less stretch in the line. With less line out, it allows me to set a spread quicker. Those weights make letting line out much more efficient as well.
Rubber core sinkers will also help baits run straighter. Lastly, rubber core sinkers allow baits to hit depths that they otherwise wouldn't be able to achieve. I have sinkers from 1/16 oz. up to 2 ounces. I've caught walleyes off the bottom in water 30' deep using 2 oz. weights in front of crankbaits.
I tune every crankbait before setting it back. I drop in into the water with about six feet of line out and watch how it runs. If the bait sashays off to the side, then I bend the eye toward the opposite direction of where it is pulling. When a lure is running perfectly straight, it will dive deeper and the action will typically result in more fish.
One final trick is to tip the back treble hook with small bits of a night crawler. This tactic will make even the most finicky walleye gulp down your bait with reckless abandon. If you have any questions, email the author at [email protected]