2024 Captains' Packages
Basic Package ($100)

The most affordable package to get your business in front of the Walleye.com audience:
Listing in the Walleye.com charter directories including photo of your boat.
Placement of your YouTube Charter Videos in our "Featured Charters" section at Walleye.com.
"Boat For Sale" listing fee is waived for any advertising Captain who plans to sell their boat this year ($89 value).

Charter Spotlight Package ($250)

The Charter Spotlight partnership level includes the Basic Package benefits plus:
Your business will be listed in a "Featured Charters" scrolling text box both on the main walleye.com page and the charter fishing pages.
300×250 pixel "Charter Spotlight" banner ad. Your banner ad is displayed on the main Walleye.com page and the main walleye charters pages.

Premier Package ($450)

The Premier Package will give your business maximum exposure at walleye.com and includes all of the benefits of the Basic and Spotlight packages plus:
A 468×60 pixel banner ad at the top of every page site wide.
YETI 20 OZ WALLEYE.com Tumbler.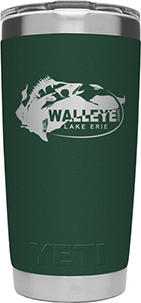 Please email us with your questions and have a SAFE and productive charter season.
I Don't Have a Banner for My Charter Business – Can You Help?
YES!  You can send us an email after signing up at [email protected] then we can help create a banner for you at no additional cost. You can also simply include the image on the signup form itself and we will know to use that.
How Long Will My Ad Appear?
Your Charter Business will stay listed for the entire year.
How Do I Make Changes to My Information?
It's easy to make changes to your ad.  Just email your changes to [email protected] and we'll take care of everything for you.
Charter Captain Signup | Lake Erie

FILL OUT FORM BELOW TO SUBMIT LISTING
If you have any questions please feel free to contact us directly at [email protected]. By placing an ad you affirm that you have read, understand, and agree to the site policy as listed on Walleye.com and that you will abide by and adhere to the guidelines and terms.