Articles on Walleye Fishing
Fishing with Ben and Mike from Catawba State Park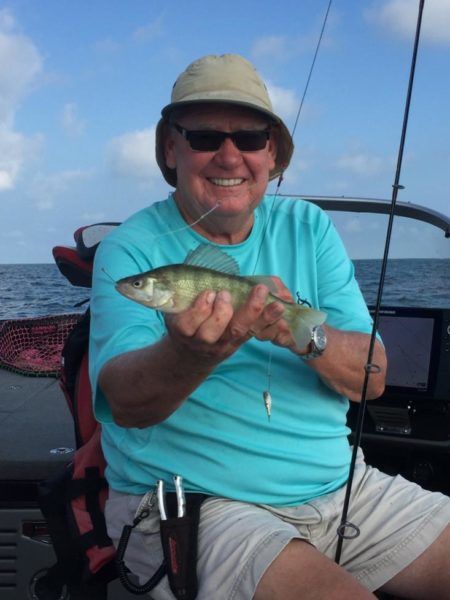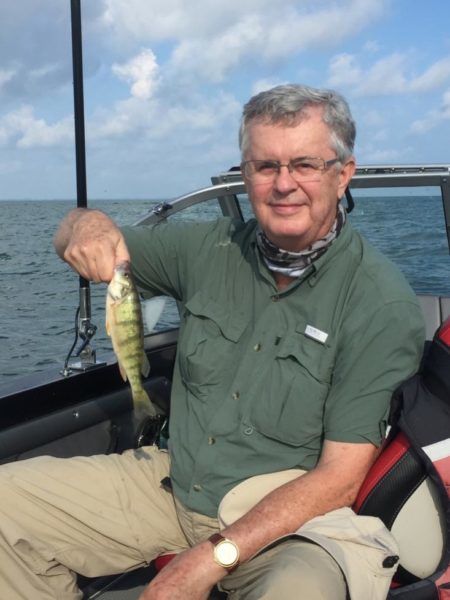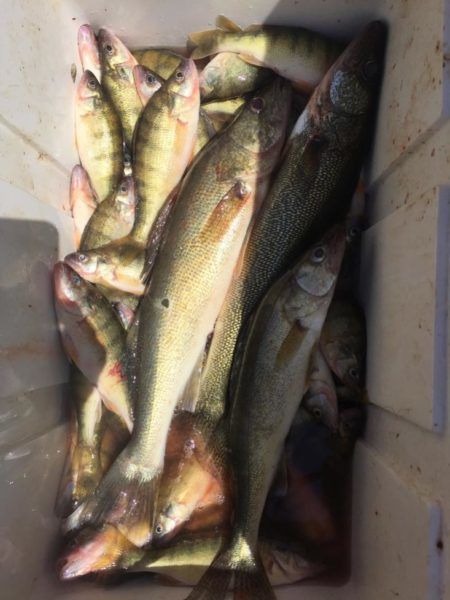 It's been a while since I blogged, so I thought since I had some free time after today's trip, that I would share today's trip with you.
I didn't have to meet my crew at Catawba State Park until 6:45, so I made some brownies at 4am….by the way, the house wafting of chocolate is a pleasant way to wake up!
I loaded the boat with the perch cooler and other things, and left the house at 5:20. I made a few phone calls looking for shiners, but all I was told that anyone had was Goldies, so I pulled into Hi Way bait for minnows and ice.
I grabbed a breakfast sandwich from Big Bopper's and headed down to the ramp a little early….a 1/2 hour to be exact. So, after readying the boat for launching, I sat in the quiet Monday morning park and enjoyed that sandwich.
My crew of Ben Welch, and his friend Mike, showed up right on time at 6:45, so we were on the water, and headed out by 7am. Our plan was to start with the perch and then go look for some walleye, if there was time left over after perch'n.
I headed right to the spot where I was the day before, and set up. We were approximately 2 miles NW of the ramp, so it was a very short run. We weren't there long, before I caught the first green and gold goodie from the depths, that told us they were down there.
Ben started pulling perch too, but Mike was struggling on the other side of the boat to hook the little buggers. They were biting, but he was feeding them more than he was catching them. We teased him, and he was a good sport about it. He eventually got better at it, and helped fill the cooler too.
We caught our 90 perch in three hours, so it was time to go look for some walleye.
The info I had gotten from another captain in the morning, wasn't panning out for them too well today, from what I could hear on the radio. So, we decided to head over to the area on the west side of gull, and pull something behind the Off Shore boards. I gave them he choice of fishing with either crawler harnesses or Bandit crank baits….they chose the crawler harnesses. So out came the worms for their icy bath.
We ran #6 Colorado blade harnesses, with 1oz inline weights, at 1.3-1.5mph. We ended up with a lot of munched up, or stolen crawlers, and three little eater walleye in the cooler to show for our efforts.
The Humminbird did show a ton of nice marks on the bottom….SW of Gull, in 41-42′ of water, so I'm going to head back there in the morning with Ben and Mike, to see if those are perch or just a bunch of little walleye. I'm really hoping those are perch!!
So…stay tuned….
Capt Juls