Articles on Walleye Fishing
Fishing with Phil, Joe, and Jason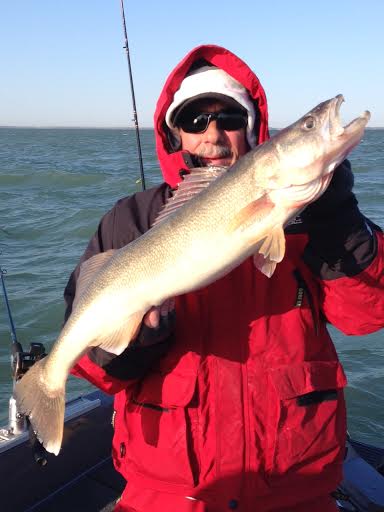 First, let me apologize for the lateness of this blog entry. I got distracted with a lot of little odds and ends work that needed to get done, and by the time I looked at the clock, it was bedtime.
Anyway, the bite was slow for us yesterday. We started out from Mazurik's and headed to the NW corner of Kelly's. We set up on the line I had fish on before this blow and picked up three fish, by the time we finished that pass.
Everyone on the radio was mentioning how slow it was for them, and struggling to figure out how to make them bite.
I figured it would be an afternoon bite, once the water came up a degree or two with the high sunshine yesterday. And, from what I heard, that happened for those in the right areas.
The water temps last Saturday were in the high 40's….and yesterday, it was back down to 45.8 where we were, so it dropped a few degrees with this cold front that is passing through this week.
We were running the Perfect 10's again, and even with all the custom colors out, that Lemon Lime Crush took 3 of the 4 fish yesterday.One fish was a smaller walleye that chomped on a crawler harness that was behind a bottom bouncer.
Reef Runners run 65-85 back, and Bandits run at 100 back were reported on the radio too…so, if you don't have the P-10's the RR's, DHJ's, and Bandits were working.
Speed was faster than I would have expected during a cold front. I figured we would need to slow it down a bit, but they wanted it just as fast, if not faster, than last week. Go figure!
We probably should have just stayed by Kelly's, in the pack, and picked at them a little more, but my crew was more than willing to go exploring with me to see if we could find other fish.
We went around the top, and down the east side of Kelly's, by the airport, to see if they were on the reef yet, but with time dwindling, I didn't see enough there to waste any time trolling there.
We went to another spot near the lighthouse and picked up a walleye willing to bite. Then, we looked at the area out in front of Lakeside and while there were good marks there, they just wouldn't bite for us.
My crew said they had a great time, and were just happy to not be working, and out on the water. They enjoyed the brownies and I sent the remainder home with them. They are well seasoned anglers with an Erie boat of their own, and their main purpose for the trip was to learn how to run the Off Shore boards. They run big boards on their boat, and wanted the flexibility of running the inline planers. So, they achieved that goal, and the four fish were just a bonus.
I have no doubt they can take what they learned on my boat and duplicate it on their boat in the future.
Phil said he would like to go fishing again sometime and would schedule another trip with me, so that made me happy.
Today's trip was rescheduled due to the forecast yesterday. My customer would prefer nicer conditions and a better bite, so he rescheduled it for another day in June. (Another reason this is late…I slept in this morning).
Tomorrow's trip is probably a "go", since the forecast looks to have improved since yesterday. My customer wants me to call him by 3pm today, before they take off to come here this afternoon….so….
Stay tuned….
Capt Juls