Articles on Walleye Fishing
Fishing with the Parker Brothers Randy, Jim, and Dick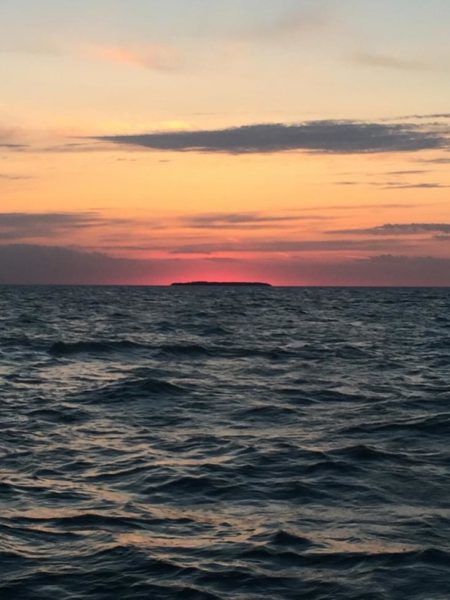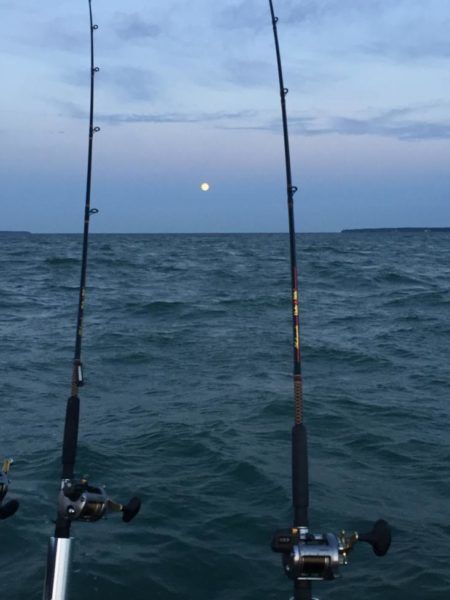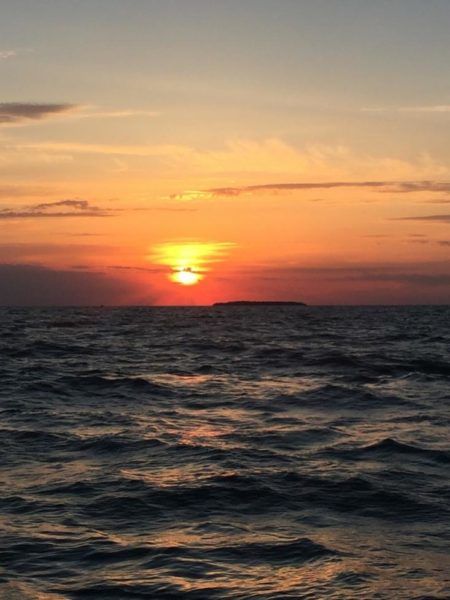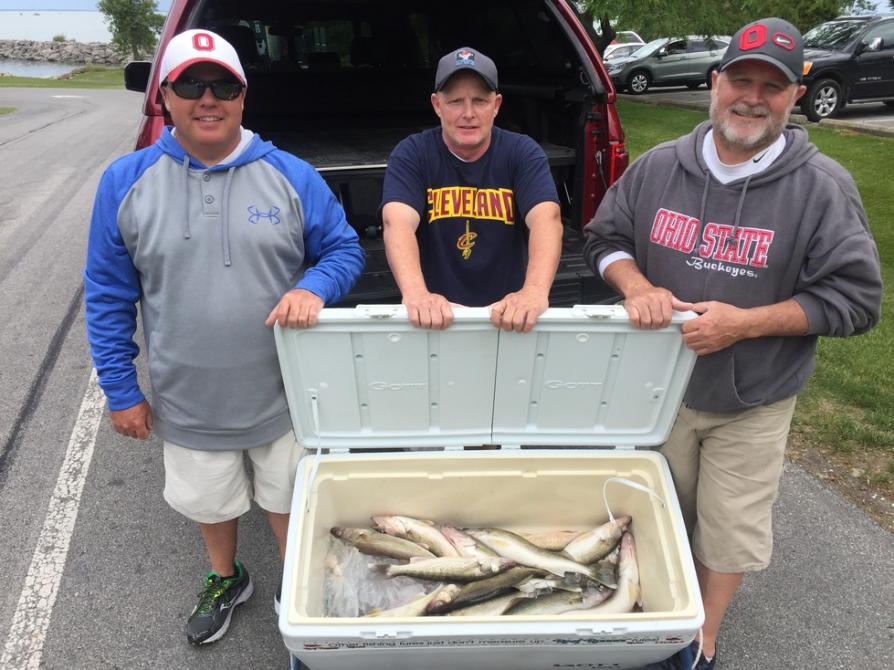 I arrived at Mazurik's at 5am. The remnants of a full moon lit up the parking lot, pushing away the darkness. My crew was supposed to meet me there at 5:15, but they were early too. Yay!
The sky starts getting light enough to see by 5:15 now…and, by 5:30AM it's almost light enough to not need the running lights lit up on the boat.
With a 5-10mph SSW wind, we headed north out of Mazurik's to the area between the Bass Islands, Middle Island, and Kelly's Island…to look for a starting point.
I set the Ranger down off plane, to take a picture of the sunrise…and, look for good fish marks on the Humminbird. After finding some decent marks, we started to set up. Randy has fished for Bass all his life, and had contacted me a little while ago to set this trip up as a "learning" trip. He wanted to learn how to troll successfully for walleye. He went out and bought a used Ranger 621, and all the trolling equipment he thought he needed, from reading material from the internet message boards, and blogs like this one.
After showing them how to put the Off Shore boards on the line, and set them out, they finished the task of getting the other 5 lines out…showing me, that they were quick learners. (Whew!) We started catching small fish (throw backs) right away, and a couple of "keepers". We were not on monster fish, but the action was such that they were going to be able to stay busy learning how to shuffle inline boards around without tangling them all up.
Randy said, "I only run two lines/boards per side right now, because I don't want to deal with the tangles". I smiled knowingly, and said, "Well, by the end of the trip you'll be able to run 4 per side. We'll start with three, until I see you can handle that… then, we'll add a fourth one to each side."
Around 6:30AM, the other charter boats started to arrive in droves, so we picked up lines and headed further north towards the Canadian line, where it was less congested. By mid morning my crew was running that fourth board on each side of the boat. At that time, we were running Bandits anywhere from 50 to 100 back at 2.1-2.3mph. We had a 2oz snap weight on each of the inside lines at 20/110 (20′ back, put the snap weight on , and let it out another 90′)… and, those caught fish also.
After we moved north, we reset the presentation from Bandits to crawler harnesses. We set up with a 1oz inline weight on the outside, on each side, and two 2oz inlines on each side. We took the 4th board out of the lineup to make it easier, because I thought it would get pretty busy using meat. We caught a lot of little buggers, with a larger one here and there, that could go in the cooler, but it wasn't until we switched the weights over to all 3oz and put them out from 25-45′ back that the ratio of little fish to keeper sized fish flip flopped. I think the heavier weights were getting the crawlers down through the little fish faster, or something. I'm not sure, but whatever it was…it was working.
We were only out for 6 hours so, we were all done at 11:30 one short of a 3 man limit…..close, but no cigar. lol Oh well….they had fun, learned a lot, and can now take what they have learned and apply it in their own fishing outings on Randy's boat.
Tomorrow's trip has been rescheduled, due to the fact that they are older gents who have fished with me a couple of times before, and the lake was going to be pretty bouncy….fishable, but bouncy. They don't have strong sea legs, so I knew it wouldn't be that much fun for them, and decided to offer them another date on the calendar. He said he would like to schedule a perch trip before the end of the season instead.
Sunday is still on weather watch. The last time I looked the wind forecast for Sunday went from ugly to fishable, so we're keeping an eye on it to see if it changes again tomorrow.
Stay tuned….
Capt Juls