Articles on Walleye Fishing
Techie Tools for Me and You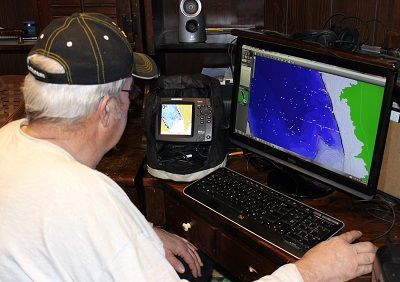 There is no doubt that technology has changed the way we do things and has been a real benefit to the modern angler. Electronic mapping is a big part of the techno mix and has made a ton of information available to those who decide to take advantage. With a highly detailed map and a G.P.S. you can unlock the whereabouts of a secret spot and put yourself right on top of it and hopefully reap some of the benefits. Whether you're somebody who gets out on the weekend once in a while or a full time tournament angler there are some real advantages to elevating your game.
Mapping companies like LakeMaster have been electronically surveying lakes throughout the country resulting in highly detailed maps that can be displayed on the chart plotter of a G.P.S. and is really quite incredible. The little known humps, bumps, and drop-offs (that maybe only a handful of locals where previously aware of) are now available in living color for all to see. When you open up a map for the first time on a lake rich with structure you'll see topographical lines (depth change) and lots of 'em. If there is a downside to all of that information being revealed is the fact that it can be a bit overwhelming. Enter Contour Elite, which is a program designed for your PC that allows you to view all of that glorious structure on the bigger screen of your computer with an added and ingenious twist. Along with the map display you can also select your species, time of year and day, type of weather, water clarity, and run a search and have potential hot spots highlighted for you in red.   By moving your cursor over the marked spots you can record lat long readings to be entered into your G.P.S. which can narrow things down rather quickly and save you some valuable fishing time. You can also download the marked spot info to an SD card and transfer it all to your G.P.S. Another option is to print off the map with marked spots and take it along with you. The marked spot feature alone can be invaluable to someone fishing a new lake for the first time including a seasoned Pro.   Professional walleye angler Mark Courts of Stacy, MN has been using the Countour Elite system to his advantage for the last couple of years which has resulted in bigger paydays. Mark on cashing in: "I've never been more prepared or better organized before entering the tournament season. By using the Fish search feature I've marked areas most likely to hold fish at the time of year we'll be there long before we arrive and has been a big help when fishing a new body of water. I'll drop a mark on a specific spot or even drop a series of spots along a potential trolling run where I can then use my Humminbird graph and MinnKota Terrova along with I-Pilot Llink to troll from spot to spot. " You can stop at all the bait shops and talk to as many people as you can before hitting a lake but nobody is going give you their best stuff, not if they want to keep it a secret. The areas highlighted are the result of known biological facts about the targeted species being considered along with the physical makeup of the given body of water. It's easy to be skeptical and I certainly was, that is until I brought up Mille Lacs (which is a lake that I've spent a lifetime on) and had my best spots highlighted after running a search. My first thoughts were: "Dang, it does work!"   My next thought was to take a good look at some of the other potential hot spots and see if there is anything else that I might be missing.  
The ability to do your homework before getting on the lake can be a big benefit to ice anglers as well, especially when the snow piles up and travel becomes difficult. Mark's love for fishing doesn't end with the Tourney Trail and is an avid ice angler. Mark on prepping for the hardwater season: "From the comfort of your home you can narrow things down quite a bit and try and come up with maybe a half dozen spots to hit. With that info you can then head straight to the best looking spots with a new level of confidence.   As a practical matter let's say you've decided to do some late season ice fishing on Devils Lake in North Dakota for the first time. The lake is a real monster and can be extremely intimidating as there is so much water and so many spots but by doing a research on your PC with the Contour Elite program you can still have a fighting chance. Devils Lake is known for jumbo perch but the lake is also full of dandy walleyes and some giant northern pike each of which is specified before you do your search. When you bring up the lake and do a fish search and it asks for water clarity; keep in mind the fact that Devil's is surprisingly clear. You'll still have more spots than you know what to do with so try and take a small bite like a bay or arm and forget about the rest, at least for now."
Even with all of that you'll still have to catch them and the fish might not be biting when you get there. On the other hand you will have plenty of high percentage options to explore that could lead to some serious pole bending and that is pure satisfaction. See you on the water.