Articles on Walleye Fishing
Walleye Fishing a Major Holiday Surprise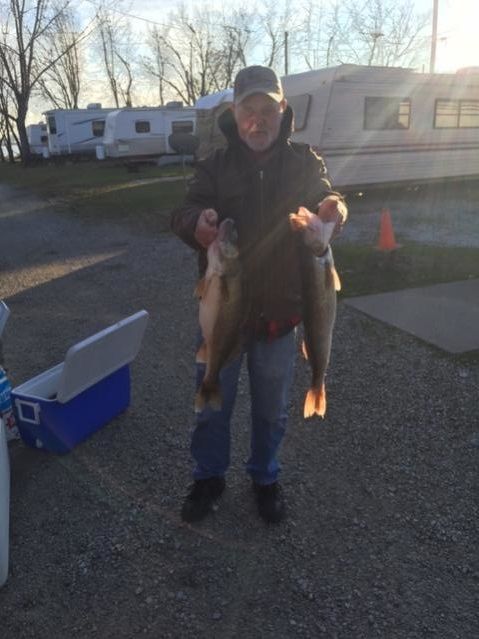 Frank Kovach shows off a trophy Lake Erie walleye he caught on a Smithwick Perfect 10 Rogue lure while fishing with Art Panfil off Cranberry Creek recently. (Photo courtesy of Art Panfil)
CLEVELAND, Ohio – The winter walleye fishing is still luring anglers to the big waters of Lake Erie, where trophy fish are being caught with regularity, especially after the sun goes down. Windy weather had slowed the fishing a little bit, but unseasonable warm weather and southerly winds should provide angling opportunities this weekend.
The steelhead trout streams of Northeast Ohio and Steelhead Alley are high and muddy or stained, but are coming down. Weekend anglers will have to search for lightly-stained and clearing waters to find trout willing to bite.
CLEVELAND AREA
While the walleye fishing success around Cleveland Harbor after dark continues to be a surprise, even more incredible are reports from anglers of fair catches during the daylight hours. The top two lures for Lake Erie walleye this week have been the Smithwick Perfect 10 and the Rapala Husky Jerk. Pink and purple lure colors seemed to work best this week while trolling in 35 to 40 feet of water.
Walleye are still being caught at night while casting from shoreline piers and breakwalls.
LAKE ERIE
The Huron area is still the top location for walleye, with boat anglers trolling in 24 to 28 feet of water. The most friendly walleye have been suspended at about 15 feet, although a few fishermen are drifting and targeting bottom-dwelling walleye with Jigging Rapalas, jigging spoons and blade baits tipped with minnows.
The walleye fishing has fair all along the Ohio shoreline from the Bass Islands to Cleveland, both trolling and casting from shore.
INLAND LAKES, RESERVOIRS
The crappie bite has been fair to good around the Portage Lakes, especially Nimisila, Turkeyfoot and East reservoirs late in the day or after the sun goes down. Mogadore and Wingfoot lakes are also good spots for crappie at this time of year.
Cleveland area anglers are still catching trout released a few weeks ago in the Cleveland Metroparks lakes. Wallace Lake should be the best bet, and trout were also stocked in Shadow, Ledge, Ranger and Judge's lakes. Work small jigs tipped with PowerBait or larval baits close to the lake bottom.
RIVERS AND STREAMS
Christmas Eve rains kicked up the Northeast Ohio rivers and streams. The rainy weather should lure a fresh batch of steelhead trout up the rivers, but it will take a few days for the waterways to come down and begin to clear.
Jig-maggot rigs and spawn bags had been taking good numbers of trout, while fly fishers are casting egg patterns, small streamers and nymphs.