Articles on Walleye Fishing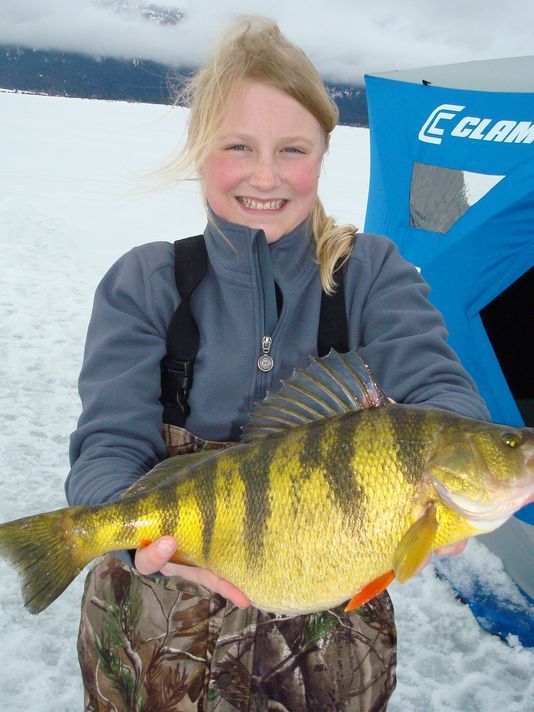 Last winter, 12-year-old Tia Wiese and her dad went ice fishing expecting to catch some big fish. The Wiese's had no idea just how big one of their catches would be.
On March 1, 2014, Tia and her dad, Gary, set up on Lake Cascade expecting to catch a yellow perch. Tia's line went screaming off and the fish got tangled in two other lines. With help from her dad, Tia was able to reel in the giant perch.
Gary weighed the fish on his personal scale and knew it was close to a state record. He rushed to Cascade to have her fish weighed on a certified scale where his suspicions were confirmed.
"I couldn't quit smiling," says Tia. "It was the biggest perch I've seen. I was kind of hoping it was a state record."
Tia's yellow perch weighed in at 2 pounds 11.68 ounces, making it the new state record holder.
After visiting the Fresh Water Fishing Hall of Fame in Wisconsin, Gary learned that the world record for yellow perch caught while ice fishing weighed in at 2 pounds 6 ounces out of Sheep Pond, Massachusetts.
He also discovered that there is a world record classification for ice fishing with a tip-up rod and saw that Tia's fish weighed five ounces more than the record holder.
Gary submitted the paperwork and it was recently confirmed that it was the largest yellow perch caught while ice fishing using a tip-up rod anywhere in the world.
When Tia learned that news, the smile that wouldn't go away last March came back.
"He told me over the phone," she says. "I was laughing so hard I was crying. It was funny."
Idaho Fish and Game in the late 1990's discovered that Lake Cascade's perch population had decreased dramatically. They then released thousands of yellow perch into the lake in attempts to recover the population.
15 years later, Lake Cascade has a strong population of yellow perch and in 2014, anglers were regularly catching them in the two pound range.