HOT OFF THE PRESS
NEW CENTRAL BASIN FISHING MAPS
Central Basin - West
Central Basin -East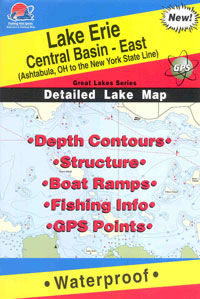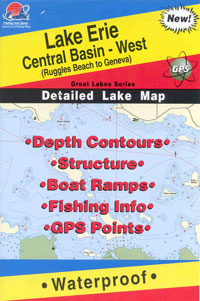 From the Editor
Rick Kubb

I

tís late February at this writing and Iím getting
(like most fishermen) a little restless and wish the days would go by a little faster to inch us closer to spring. Thereís really only so much you can do, waiting. Sure, we spend time spooling reels, sharpening some hooks, sorting through the old tackle box, attending the sport and boat shows. Just killing time, I guess.

Mother Nature continues to tease us. Last Sunday the temperature nearly reached 70 degrees and today (three days later) it plummeted back down in the 20ís and thereís a dusting of snow. Thatís a REALITY CHECK! Spring really is just around the corner, though.

By most accounts, Lake Erie fishing in 2002 is predicted to match last yearís excellent season. Walleye fishermen in the western and central basins can look forward to catching many 17-18 inch three year old fish from the excellent 1999 walleye hatch along with larger 22-26 inch fish from the strong 1996 hatch.

Walleye anglers in the eastern basin are hoping to rebound from a not-so-good walleye season last year. These anglers rely on the eastward migration of walleye from the western and central basins of Lake Erie. This migration varies widely from year-to-year and is dependent on the pattern of the forage food base. Last year the walleyes didnít migrate in numbers seen in previous years. Eastern anglers are looking forward to seeing more walleyes in their nets this year.

Yellow perch prospects are excellent for 2002 for the western, central and eastern basins of Lake Erie. Anglers will continue to see limit catches and the fish will again be LARGE! Many of the fish will be from the 1996 year class which was the largest hatch in 10 years. These fish will measure 10-12 inches.

Smallmouth bass prospects are also good for 2002. This is not really surprising though. The fishing for smallies just keeps getting better and better. Most anglers (6 out of 7, from a creel survey) continue to practice catch and release for this species.

Central basin anglers can look forward to another excellent steelhead year. With the annual stocking approaching 400,000 steelies into neighboring Lake Erie streams, this species continues to thrive in Lake Erie, providing much enjoyment by anglers willing to make the journey to the deep central basin waters in July and August. The early spring stream steelhead action (March through Mid-April) also continues to be excellent fishery for shoreline anglers. This year the Division of Wildlife will begin stocking the Vermilion River with steelhead. This is in addition to the current stocking programs for Rocky River, Chagrin River, Grand River and Conneaut Creek.

Many anglers missed out on the great fishing in 2001. Anglers were a little reluctant to make the trip to Lake Erie last year as a result of below par fishing in 1999 and 2000 and the high gasoline prices that occurred. Once word is out, many of these anglers will be Ďback in the saddle, againí. This is good news for the Charter Captains, many of whom reported fewer charters last year.

Till next time, GOOD FISHING!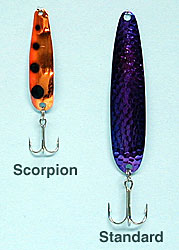 and receive the
e-Walleye Newsletter



Published each Spring, Summer & Fall.
A Boat Load of useful fishing information in each issue.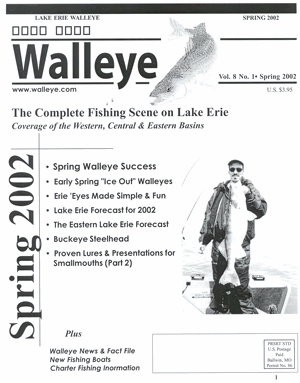 Sign Me Up! More Info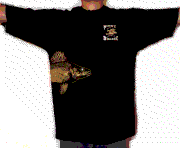 "Night Stalker"
Walleye Tee Shirts, Hats & Pins
WE DELIVER!
Have Lake Erie Walleye Magazine sent to your home!
Plus, gain password access to the
current and back issues Online
Sign Me Up! (CLICK HERE)