Lake Erie Fishing for 2002
by Captain Phil Cadez
Lake Erie Fishing Charters


Itís hard to believe itís been 31 years since they stopped netting walleye on Lake Erie. Many of you that have fished Lake Erie in the 70s and 80s remember the fabulous fishing we had. The decline in the 90s has been tough to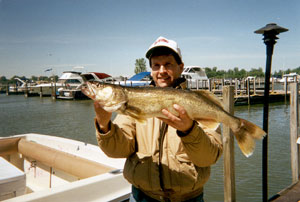 predict. Blames were put on over fishing, lack of restocking, zebra muscles, gobyís and other exotic species that were introduced into our lake from foreign freighters emptying their ballast.
2001 was the first good April fishing in the last 10 years. The best catches were off Toledo and near the Michigan waters west of West Sister Island. By late May a very large area between the Bass Islands and West Sister turned on and were hot thru mid August.
The fishing in the Canadian waters did produce bigger walleyes near Pelee Island in June and July. The consistent numbers were down significantly, no where near the big catches that occurred in 2000. Fishing the structures in Canada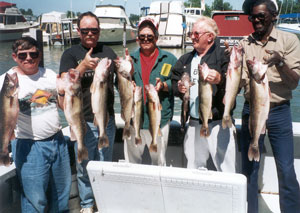 always did give up larger walleyes. The charters that ventured over the border found it very hard to obtain limit catches.
The biggest disappointment was the big schools of walleye which returned off Lorain and Huron. In 2000, October walleye fishing was unbelievable with limit catches of fish 4 to 10 lb. Walleye. But 2001 had high winds all of October and the fishing was terrible. Many of the charters moved to Huron Harbor to get in on this great fall fishing but were very disappointed. The smart boat owners pulled their boats earlier because they were worried about the low water. A few storms came in late October and earlier November which blew out all the water in harbors and bays.
Other great fishing areas off Cleveland, Fairport Harbor and Geneva had very tough fishing for walleye in 2001. These fishermen are used to trolling for bigger walleye. The steelhead population was up so it did provide action for these anglers. Most still prefer the good eating walleye to most other fish except the yellow perch.
The smallmouth fishing has been great for many years. Most fish average 2 to 4 lbs and will give you all you can handle on light tackle. Near the Bass Islands, Kelleyís or in Canadian waters off Pelee Island was still the best areas. A few anglers used tube jigs in the spring and practiced catch and release, but most of the action came using live softcraws in July, August, September and October.
The yellow perch fishing has been nothing short of fantastic from late April thru October. These tasty fish provided many an angler with super eating. Many "jumbo" perch were caught n the fall of 2001. Vast numbers of boats packed up anywhere these fish had a frenzy.
After a conversation with the Division of Wildlife in Sandusky it gives me great pleasure to give good news on the forecast. The big hatch will be 3 years old in 2001 and will reach 17 to 20 inches and provide many anglers with limit catches again this summer. Thereís still a few bigger fish out there from previous years which will offer a mixed bag of fish. Another thing was mentioned about a good 2001 hatch. This means good news for years to come.
Smallmouth bass fishing has been super for many years and will remain so for a long time. Lake Erie has always been one of the top 10 smallmouth lakes in the world. These fish will provide the true sportsmen a good fish with plenty of action.
The perch has been getting better every year. Itís hard to believe it can get better than 2001. Using minnows or worms off the bottom in most deeper areas constantly rewards Anglers with their limits of these great eating fish. 2002 should be another banner year.
All of us are looking forward to great fishing in 2002. One suggestion is to try coming in late May thru early August. Weíve had many bad early fishing days in April and earlier May due to weather. High winds bring water conditions that resemble chocolate milk. Cold water and murky water conditions make it too tough to produce good catches. When the water temperature gets over 60 F is usually when the walleye start feeding the best. Whether you cast or troll youíll enjoy a great fishing day on our lake.
Plan ahead to come to this vacation area. Thereís lots of charters, ramps for your own good sized boat and motels to stay in. These areas book up months in advance. Donít wait till March or April unless you can come up during the week, which is a little slower but not much. Weekends the population doubles or even triples. Traffic is congested and it seems everyone is in a hurry to get out on the lake.
You might try calling 1 800 BUCKEYE and ask for information on Ohioís northern shore from Toledo thru Huron this summer. Port Clinton seems the central area for anglers to flock. If you want to talk fish you can e mail me at [email protected] GOOD FISHIN!!