Open Water 'Erie Walleyes
by Captain Phil Cadez

W

alleyes are not a territorial fish like the smallmouth bass. They roam in schools or small packs searching for food. They're a game fish – a predator. They'll see anything that looks eatable to them. They normally cruise the rocky bottoms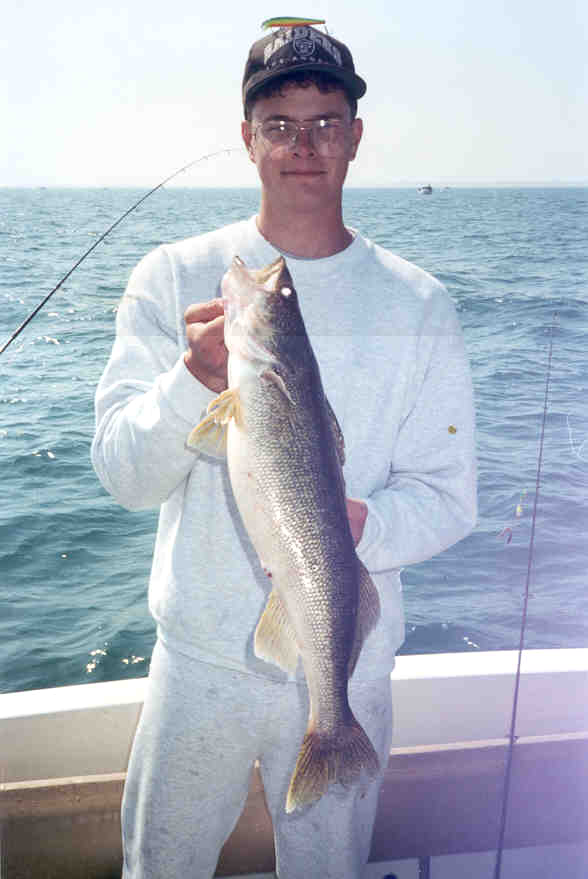 searching for food but as the water warms up and the vast amount of boats chase them they will tend to seek open water. By open water we mean north of the reef areas. An area we refer to as the flats. You can go from West Sister to the Bass Islands and north of Niagara Reef to Middle Sister and the clay bottom will stay a constant 32 to 34 feet.

With the zebra muscles inundating all of the rocky bottoms of Lake Erie, we have noticed the cleanest water that's possible on such a large body of water. Snorkelers and scuba divers have enjoyed this clean water searching the various wrecks that dot the Western Basin. The only thing clean water does for fishing is make it tougher. Walleye usually will not surface in bright sunlight to feed. They will spook easily in clean water.

There is really no set pattern that walleye move in after leaving the reefs. The only tools we have in locating these illusive fish are updated fish locators and marine radio. With such a vast area covering many square miles you might check with local bait shops that sometimes post "hot spots" for fishing. This will give you a place to start. Also observe charter boats that tend to pack up in a area. However, do not get too close to them or spook their fish – remember it's their livelihood. Give them a reasonable amount of room. Never drive up their drift at over a slow trolling speed.

After you've located a possible starting area observe your fish locator. If you're in 30 foot of water try zooming in on the bottom 10 feet. Walleyes can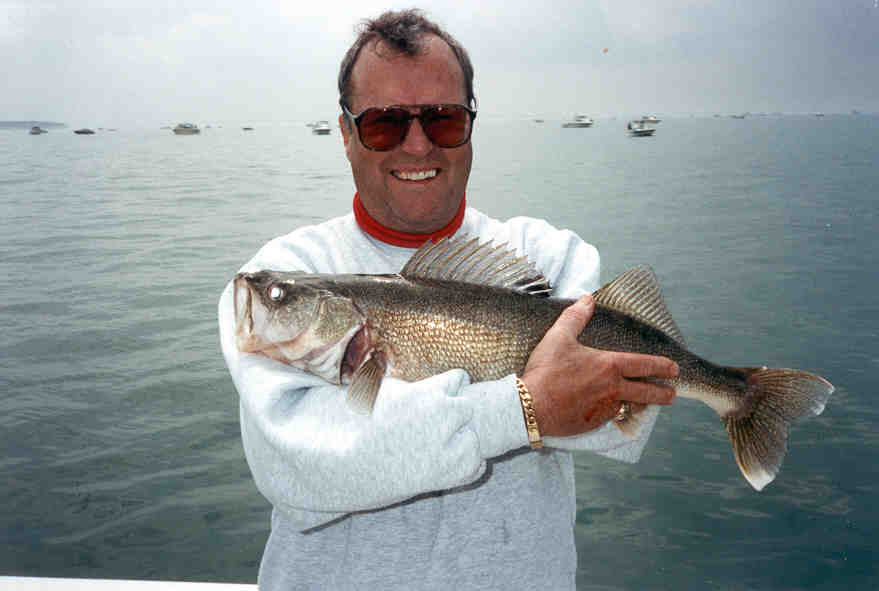 be at any depth but starting at the bottom is the best place to start looking. If you locate a small pocket of fish go up wind and drift over that spot. If successful, mark it with your loran or GPS. You can also mark your "hot spot" with a marker with a line and 50 ft. of line and weight.
If the water is moderate to lightly choppy you might start off with a "walleye casting weapon" with a ¾ oz egg sinker. Cast as far as you can across the drift letting it settle to the bottom. As you feel the slack in the line start the lure and move it in a "walleye sweep" or constant slow retrieve. A "walleye sweep" is a pull slow to keep tension on the lure then reel the slack in faster so that the line stays taut.
"Walleye weapons" can be purchased at Ohio local bait shops or you can make your own. They are really only a 20 lb leader about 16 to 24 inches in length. It has a small hook at the end preceded by colored beads and a small spinner. It's attached at the other end with a 1 inch double loop where the egg sinker is slipped on. This prevents the egg sinker from sliding up and down the leader. After placing this egg sinker through the double loop attach a swivel to the end of your line.
Hook sizes that work best are a #4 or 6 because you only use ½ nightcrawler. Hook the ½ nightcrawler leaving only about 1 inch dragging which looks like a small tail. You don't need big gaudy beads or extra spinners. Most of my beads are approx 3/16 diameter. I like using a #3 spinner either Indiana or Colorado style. Colors of the beads will range from chartreuse, red, yellow, white, green, pink, silver, and especially gold. Most popular spinner colors are gold silver, white, chartreuse, perch (fire tiger) or multi-colored.
Open faced spinning reels with 8 or 10 lb line is the most widely used. If you feel any tap or bump on the line see the hook sharply and quickly lift your rod up and keep tension on the fish. Never horse the fish and never pump and reel as you would when ocean or salmon fishing. Slower is better and set your drag because the fish usually always dives near the boat. If you have the rod tip up and the drag set properly you should never loose a fish near the boat.
While casting you might want to let out a drag line with a drifting rig fished near the bottom. The dragging rig is made the same as the casting rig but is longer, approx. 24". And the beads and spinner will also be larger. Beads will vary up to ¼ inch in diameter and the spinner can be a #4 or 5 Colorado or Indiana style. One other difference on these dragging rigs are that most of these have tandem hooks at the end of the line. This enables you to double hook a nightcrawler trailer. You can use a 1 oz egg sinker or use a bottom bouncer off 1 to 3 ounces. A bottom bouncer is an "L" shaped wire with a lead weight through it about 16 inches in height. This keeps the lure off the bottom at least a foot.
On cloudy choppy dates you might want to fish high, near the surface. Feeding walleye will chase their prey wherever they have to . This high fishing usually works when by yourself, not bothered by boat traffic. Clean water does make it tougher to have successful days on this big lake but patience and the ability to adapt to new techniques will insure a successful day of angling on America's Greatest Walleye Lake.
For information call 1 800 BUCKEYE. Tell them the area you'll be traveling to and you'll get all the help you need. We feel this will be a excellent year to visit our lake. Plan ahead for charters or lodging because it gets very bush in the summer. You can also e mail me at [email protected] for information. GOOD FISHIN!