Terri Boyd with an eye-full caught at Lake Erie on 8/8/08.
---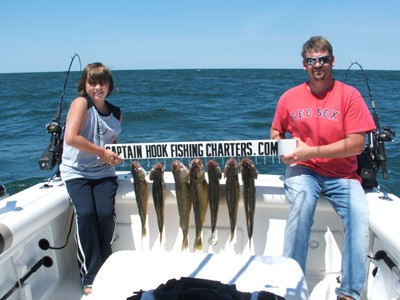 Reed and Patrick with some nice Lake Erie Walleyes!
---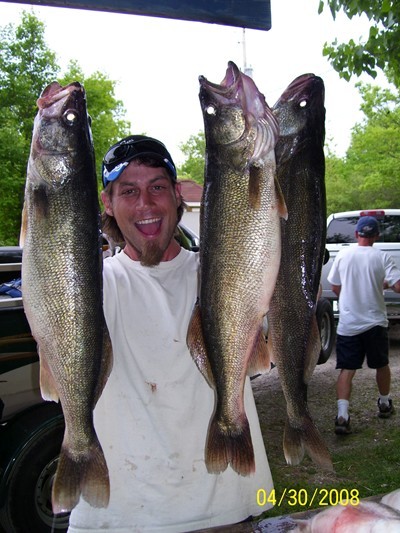 Jonathan Krueger with some big eyes caught May off of North Bass Island.
---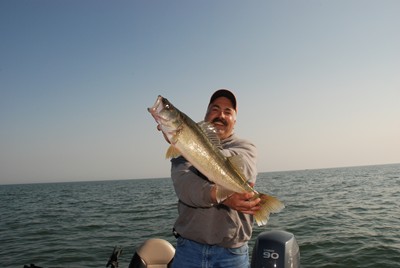 No weight but it was 30"
Fishing with my Brother on 4/22/08
Trolling Reef Runners in Brest Bay on Lake Erie
We launched out of Sterling State park and were fishing inside of the bay
Had a great day. And this was the last fish we caught. Royce
---
31.5 inch 10.5 pound walleye
caught north of niagra reef
Mike Vicars
---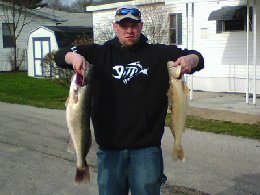 Chris Beach with 2 walleye caught in the Western Basin on 4-20-08. The fish on the left was 29 3/4 inches and the fish on the right was 25 inches.
---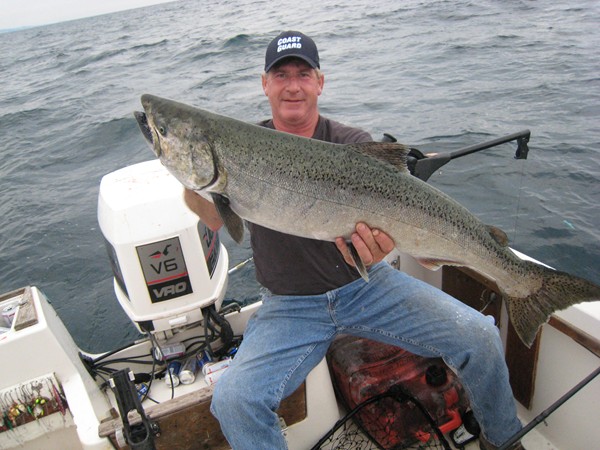 Ed Jefferson with a nice King take off of Big Sable Point last August.
---
The 2008Braggin Board is sponsored by:
www.walleyetacklestore.com
For all your walleye tackle needs
---
www.walleyetacklestore.com
Index
Boat Equipment
Downriggers
Marine Electronics
Rod Holders
Trolling Equipment
Trolling Motors
Fishing Maps
Lake Erie Maps
Lake Ontario Maps
Lake Michigan Maps
Spoons
Michigan Stinger Spoons
Silver Streak Spoons
Pa's Fintail Spoons
Acme Kastmaster
Acme Little Cleo
Acme K.O. Wobbler

Blade Baits
Heddon Sonar Flash
Li'l Nitro Blade Baits

Crankbaits
Bomber
Cotton Cordell
Daiwa
Dave's Ka-Boom Lures
Rapala
Reef Runner
Harnesses
Erie Dearie
Spinning Baits
Mepps

Fly Fishing Flies
Clothing & Accessories
Flying Fisherman T-Shirts
Flying Fisherman Fishing Caps & Visors
Flying Fisherman Sunglasses
Walleye Hats
Walleye T-Shirts
Fishing Reels
Trolling Reels
Abu-Garcia
Daiwa
Okuma
Penn
Shimano
Spinning Reels
Abu-Garcia
Daiwa
Okuma
Shimano
Baitcasting Reels
Abu-Garcia
Daiwa
Okuma
Pflueger
Shimano
Fly Fishing Reels
Cortland
G. Loomis
Okuma
Fishing Line
Berkley
Power Pro
Seaguar
Trolling Equip.
Downriggers
Big Jon
Cannon

Rod Holders
Big Jon Rod Holders
Cannon Rod Holders
Michigan Stinger Rod Holders
Tite-Lok Rod Holders

Planer Boards
Big Jon
Church Tackle
Offshore Tackle

Dipsy/Jet Divers
Big Jon Diver Disks
Luhr-Jensen
Marine Electronics
Eagle Electronics
Garmin
Humminbird
Lowrance
Vexilar Fish Finders
Magazines, Books & Videos
Fishing & Hunting Magazines
Precision Trolling 8th Ed.
Prec. Trolling Big Water
Trophy Walleye Tips

Tackle Storage
Spoon Caddy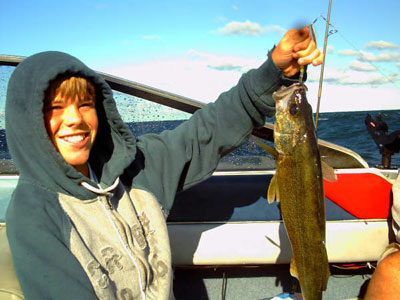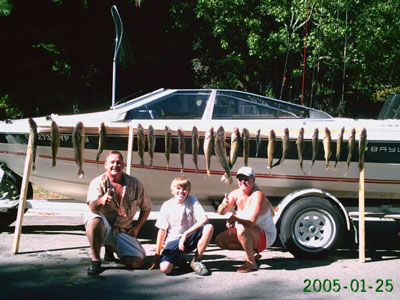 Terri's son (above) and family again with some beautiful eye caught at Lake Erie on 8/8/08.
---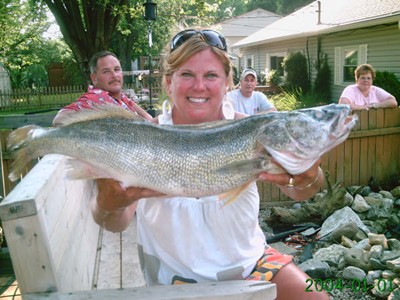 Here is Terri with a great catch. Weighed 9 lbs. and measured 28 1/2 inches.
Terri's still excited about as she should be!!!
---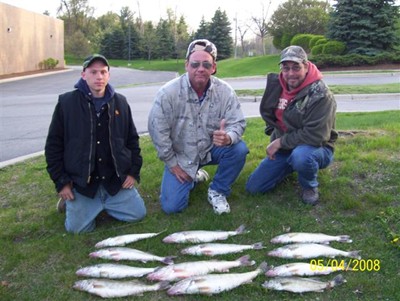 Steve Meloche, Keith Maday and friend Kevin with hogs
caught 5-4-2008
Lake Erie in Brest Bay 2 6lb, 2 5lb, the rest 3 -4 lbs

---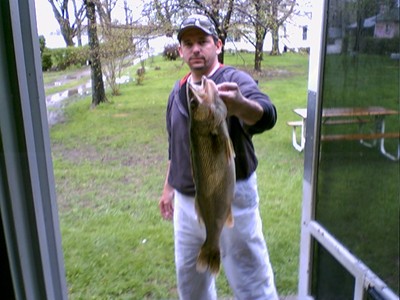 Bill Burton with a 28 1/2 inch eye caught on 5-2-08 north of rattlesnake island.
---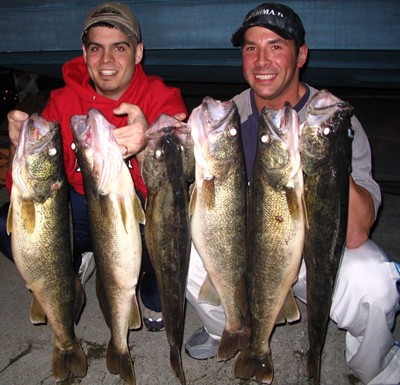 Fished off of Cleveland Tue. night 4/22. All fish were 9-12 lbs. 28" +. In picture are friends (L) Howie Baldwin, and (R) Sean "Big Boy" Beskid. It's going to be another good year!

Thanks,
Sean "Big Boy" Beskid
---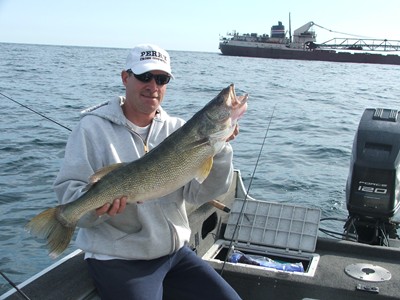 Steve Salapak with his 31" walleye caught off of the Lorain, OH Sandbar on August 25 2007 while fishing with Steve Fink.
---